Products and Services
We offer a wide variety of storage barn solutions including on-site barn constuction, relocation, and repair.  We can also custom design a storage barn that meets your exact needs and budget.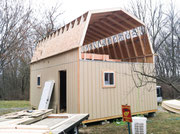 For more information on our products and services click a link below or call Randy today at 765-524-1175.